Periodontal Gum Disease Treatment in Fountain Valley, CA
Periodontal disease is incredibly common and is the leading cause of tooth loss in adults. Advanced gum disease can also cause significant damage to the gum tissue, bones and ligaments. When periodontal problems set in, our prosthodontist Dr. Mokbel provides a wide range of periodontal procedures and surgeries designed to preserve not just the health of the gums but also the rest of your facial structure.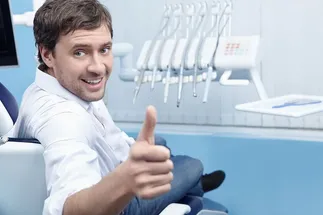 Treating Gum Disease

If gum disease is caught early enough, we can often control the disease from getting worse by changing up your current at-home oral care routine and following a healthier lifestyle. Some patients will also benefit from scaling and root planning, a professional deep cleaning that allows us to get under the gums to smooth down the roots and remove plaque and tartar buildup.
We also offer highly advanced alternative treatment options such as Perio Protect, which uses a special tray system to deliver medicine under the gum line to kill bacteria. This system is used at home along with proper brushing and flossing. We also provide Perio laser therapy, which can help some of our patients avoid gum surgery while still getting the effective treatment they need to maintain healthy gums.
Getting Dental Implants
In order to get a dental implant you need to have a strong jawbone that can fully support the metal post. If you didn't immediately turn to us to get dental implants after tooth loss, then you could be dealing with extensive bone loss. This doesn't mean that you aren't a candidate for implants, however. This simply means that we will need to rebuild the jawbone through a bone grafting procedure before your jawbone is ready to support an implant.
Esthetic and Cosmetic Treatments
Dr. Mokbel and his team also offer plastic surgery to cosmetically enhance the appearance of your smile by reshaping and improving the overall look and esthetics of the gums. This may involve grafting to fill areas where you have a receding gum line, crown lengthening, correcting an uneven gum line or recontouring a "gummy smile".
If you have been diagnosed with gum disease, know that you have options when it comes to the type of treatment and care you deserve.
Do You Need Periodontal Gum Disease Treatment? Schedule An Appointment With SoCal Prosthodontics In Fountain Valley, CA Today By Calling Our Office At (714) 968-0308!